DUN DUN DUN.
It's time for...
Top Ten Tuesday
is a meme started by
The Broke and the Bookish book blog
! This week: I'll be listing the top ten books on my Fall TBR list. For me, it is many but while I'm highly doubtful I'll get to every one of these but I'll provide summaries to my top three and list the other seven below. Super excited, this is my first time doing this meme; that, and I am also really excited for getting them, too! *squee* Me at the moment:
*cue drum roll*...
1.
FANGIRL by Rainbow Rowell
Talk about obsession. I am like fangirling over this book which is about a fangirl fangirling and-- okay, it's like a freaking FANGIRLCEPTION happening--anyways, I really want this book. I've been seeing it buzz a lot on the blogesphere since it's September 10th release (yes!) and I always really wanted to give a Rainbow Lowell book a try since drooling over Eleanor & Park. Bah. Just get me this. Like, now please. To those curious to what's it all about:
Straight from Rainbow Lowell's website. . .
Cath is a Simon Snow fan.
Okay, the whole world is a Simon Snow fan . . .
But for Cath, being a fan is her life — and she's really good at it. She and her twin sister, Wren, ensconced themselves in the Simon Snow series when they were just kids; it's what got them through their mother leaving.
Reading. Rereading. Hanging out in Simon Snow forums, writing Simon Snow fanfiction, dressing up like the characters for every movie premiere.
Cath's sister has mostly grown away from fandom, but Cath can't let go. She doesn't want to.
Now that they're going to college, Wren has told Cath she doesn't want to be roommates. Cath is on her own, completely outside of her comfort zone. She's got a surly roommate with a charming, always-around boyfriend, a fiction-writing professor who thinks fanfiction is the end of the civilized world, a handsome classmate who only wants to talk about words . . . And she can't stop worrying about her dad, who's loving and fragile and has never really been alone.
For Cath, the question is: Can she do this?
Can she make it without Wren holding her hand? Is she ready to start living her own life? Writing her own stories?
And does she even want to move on if it means leaving Simon Snow behind?
2.
ALLEGIANT
by Veronica Roth
Um, hello-o. Divergent. Insurgent. An amazing series so far, so it's a definite yes, yes, YES to this one! OCTOBER 22. OCTOBER 22. YAY.
From Goodreads,
One choice will define you.
What if your whole world was a lie?
What if a single revelation—like a single choice—changed everything?
What if love and loyalty made you do things you never expected?
The faction-based society that Tris Prior once believed in is shattered—fractured by violence and power struggles and scarred by loss and betrayal. So when offered a chance to explore the world past the limits she's known, Tris is ready. Perhaps beyond the fence, she and Tobias will find a simple new life together, free from complicated lies, tangled loyalties, and painful memories.
But Tris's new reality is even more alarming than the one she left behind. Old discoveries are quickly rendered meaningless. Explosive new truths change the hearts of those she loves. And once again, Tris must battle to comprehend the complexities of human nature—and of herself—while facing impossible choices about courage, allegiance, sacrifice, and love.
I loved Kiersten White's Paranormalcy series, so I have super high hopes for reading Chaos of Stars. I've heard some mixed reviews on it so far, and I'm honestly trying to not let it deter me from reading-- because, well... look at that gorgeous cover! Plus, Egyptian mythology + YA + romance = love.
From Goodreads,
Isadora's family is seriously screwed up.
Of course, as the human daughter of Egyptian gods, that pretty much comes with the territory. She's also stuck with parents who barely notice her, and a house full of relatives who can't be bothered to remember her name. After all, they are going to be around forever—and she's a mere mortal.
Isadora's sick of living a life where she's only worthy of a passing glance, and when she has the chance to move to San Diego with her brother, she jumps on it. But Isadora's quickly finding that a "normal" life comes with plenty of its own epic complications—and that there's no such thing as a clean break when it comes to family. Much as she wants to leave her past behind, she can't shake the ominous dreams that foretell destruction for her entire family. When it turns out there may be truth in her nightmares, Isadora has to decide whether she can abandon her divine heritage after all.
4. JUST ONE DAY by Gayle Forman!
I really should be getting onto
Just One Year
, but I'm kind of backed up with books and never had the opportunity to read
Just One Day
. Absolutely loved Forman's
If I Stay
and it's sequel, so I'd really love to get reading on this one so I can finally get my hands on Just One Year. *squee*
5. THE BEGINNING OF EVERYTHING by Robyn Schnider!
Really get a whole
Perks of Being a Wallflower
theme from this book and actually after hearing it compared to it so many times (being a Perks fan) I decided I really wanna get this book, too! Sounds like fun.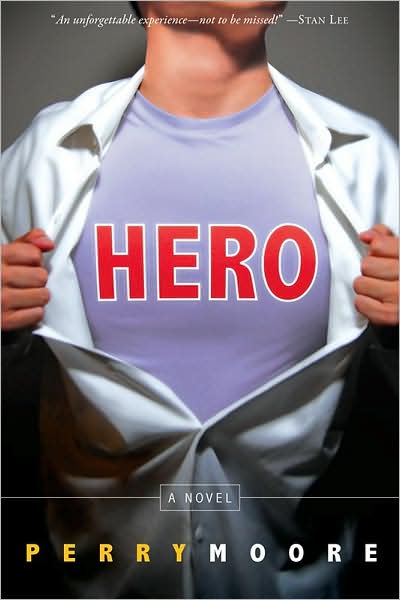 6. HERO by Perry Moore!
TEENAGE SUPERHEROES ALL WRAPPED IN A YA BOOK WITH A TWIST?! Um, yes please. 'Nough said. Big superhero fan here, so this is another definite must on my list.
7. THE MOON AND MORE by Sarah Dessen!
It was never one of my big priorities to read this book, and maybe if it weren't for Sarah Dessen I wouldn't be
as
interested. But what can I say? I am susceptible to all the charm of all that is Desseny novels, so I had to squeeze this onto my list somewhere...
8. WILL GRAYSON, WILL GRAYSON by David Levithan and John Green!
I've been one some sort of John Green kick lately, and I actually never read a David Levithan book but I have seen him collab with a lot of popular authors. Plus, while it isn't on my top ten, I always wanted to read David's Everyday but something about the fact that these two amazing authors are collabing together on this alone makes me want to read it. Plus!-- it has a really amusing beginning. Kinda hard not to give into the charm of books like these.
9. SAILOR MOON: Volume 2 by Naoko Takeuchi!
Who said it all had to be about YA? :P Little people know about how much I love my manga. Sailor Moon used to be one of my favorite shows and the first real anime I actually watched, and probably the first thing I ever fangirled for. Anywho, the first volume of Sailor Moon brought on some serious nostalgia so I just can't wait to get onto the second volume.
10. THE INFINITE MOMENT OF US by Lauren Myracle!
I often say I try not to be discouraged by reviews but in this instance, I sort of... am? I don't want to be though. But the reviews on this are really less than impressive (3 star average?!! Nuh-uh) is
really
discouraging. Regardless, I'm still really willing to give it a try.
So there are my picks! What do you think?